Thank you to our generous Friends of Fine Arts and Arts Passion Giving supporters. This year has presented more than the usual challenges and your support of the instrumental, vocal, dance, drama, theatre, and visual arts at CHCA has been a great encouragement to our students and faculty. Our desire is to use them all to glorify God through the creative gifts He has given us.

Christmas programs look a little different this year, as you might expect. Yet the message of Christ's birth is the same now and always! Neither the Grinch nor COVID can stop Christmas from coming.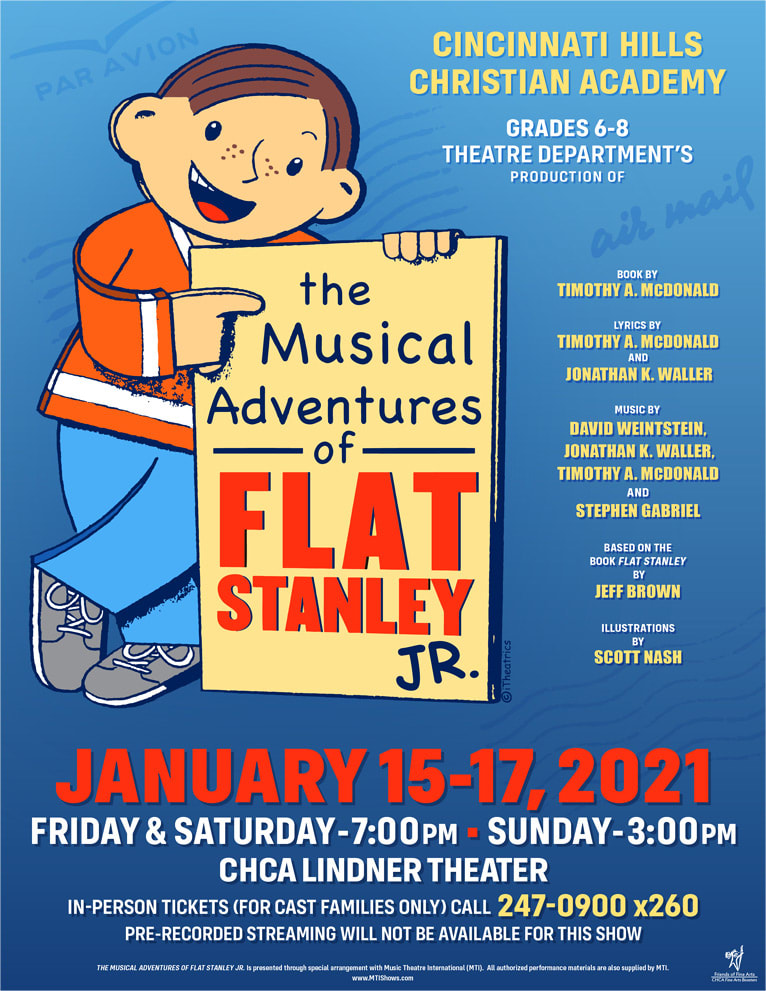 The Musical Adventures of Flat Stanley JR Candygrams and Blu-Rays
The Gr 6-8 production of The Musical Adventures of Flat Stanley JR is coming to Lindner Theater for three shows, Friday, 01/15/21 and Saturday, 01/16/21 at 7:00 p.m., and Sunday, 01/17/21 at 2:00 p.m.
Encourage the cast and crew by purchasing Candygrams here! Sales are open until Wednesday, 01/13/20 at 11:59 p.m.
Another way to show your support is to purchase Theater Cutouts of family and friends who can't attend! Grandparents, cousins, neighbors, furry friends are all welcome! Join the fun and order your Theater Cutouts here by 01/08/21 for this show!
Unlike Frozen KIDS and Reckless, we do not have streaming rights for The Musical Adventures of Flat Stanley JR; therefore, this show will not be available as Scheduled Content streaming. Families may order Blu-Rays at $30 each here until 01/22/21.

The 23rd Annual ArtBeat Fine Arts Festival to Present Virtually
– April 6 to 15, 2021
Yes, Virginia, there will be an ArtBeat! We are seeking high-quality acts in all areas of the performing arts – vocal, instrumental, drama, dance etc. Register now and start rehearsing for ArtBeat Auditions:  Monday, 02/01/21, Wednesday, 02/03/21 and Tuesday, 02/09/21 from 4:00 - 8:30 p.m. in Lindner Theater. Students selected to perform for Virtual ArtBeat will be scheduled to attend a video recording session. Audition information is detailed on the ArtBeat homepage: www.chca-oh.org/artbeat. We hope to see you on the stage!

Anne Phelps
To Darris Sneed '09, who has continued to write, sing, praise, and lead worship, congratulations on the growth of his music, and mostly, on his growth in the Lord. Enjoy his new YouTube video "Joyful, Joyful" here.  Follow Darris on Instagram.
To PUBLIC (aka John Vaughn '12, Matt Alvarado '11 and Ben Lapps '12), congratulations on your latest single "Splash," and all the cool new merch. Check out the music video here! Follow PUBLIC on Instagram.
To Roger Phelps '12 (aka .boy), congratulations on the release of your first EP August earlier this month, featuring 4 singles: "Tree Forts," "PUSH," "Paint!," and "Bowie." Download and follow his midwest burb-pop sound here. Follow Roger on Instagram.
To Colin Cooper '10 (aka DJ COOPDOGG), congratulations on the growth of your Nashville media production company, Mac N' Cheese Media, as well as on your new tune "Dancing on the Roof."   Check it out here. Follow Colin on Instagram.
Anne Phelps
Please update your calendars for two changes in upcoming Fine Arts Events.  
The Off the Cuff improv show has moved to 02/05/21 at 7:00 p.m. in Lindner Theater. There is a time change regarding the Electric Jazz Orchestra concert on 01/30/21. The concert now begins at 4:00 p.m. in Lindner Theater. 
12/18/2020
7:00 PM - 8:00 PM
Virtual Christmas Video Available through 01/04/21
12/18/2020
7:00 PM - 8:00 PM
Virtual Christmas Video Available through 01/04/21
12/19/2020
7:00 PM - 8:00 PM
Virtual Christmas Video Available through 01/04/21
1/15/2021
7:00 PM - 9:00 PM
MSL Campus: Lindner Theater
1/16/2021
7:00 PM - 9:00 PM
MSL Campus: Lindner Theater