Audition Registration Is Open for ArtBeat 2021
The 23rd Annual ArtBeat Fine Arts Festival will be presented virtually April 6 to 15, 2021 and will showcase the variety of arts and student artists from PK through Gr 12 at CHCA. ArtBeat auditions for performing arts are Monday, 02/01/21, Wednesday, 02/03/21 and Tuesday, 02/09/21 from 4:00 - 8:30 p.m. in Lindner Theater, and are open to all students. We are seeking high-quality acts in all areas of the performing arts – vocal, instrumental, drama, dance etc. To register for an audition, go to the ArtBeat homepage www.chca-oh.org/artbeat where you will find all the details, links, and deadlines. Students selected to perform for Virtual ArtBeat will be scheduled to be professionally recorded for the online presentation. Recording will happen over 7 days Monday - Thursday 03/22 - 03/25/21 and Monday - Wednesday 03/29 - 03/31/21, with like acts recorded on the same day to minimize stage set-up.
Regional Scholastic Awards

The annual Scholastic Art & Writing Awards are the nation's most prestigious recognition initiative for creative students. Four CHCA students submitted entries in multiple categories and together they earned 1 Gold Key, 2 Silver Key, and 11 Honorable Mentions! We are pleased to congratulate Jonah Bolander (Gr 12), Sophie Rempe (Gr 11), Anna Treadway (Gr 12), and MK Walther (Gr 11) for their outstanding work. All work will be available to view online via Flickr starting Friday, 01/15/21. Please visit the Art Academy of Cincinnati's Scholastic page here for details.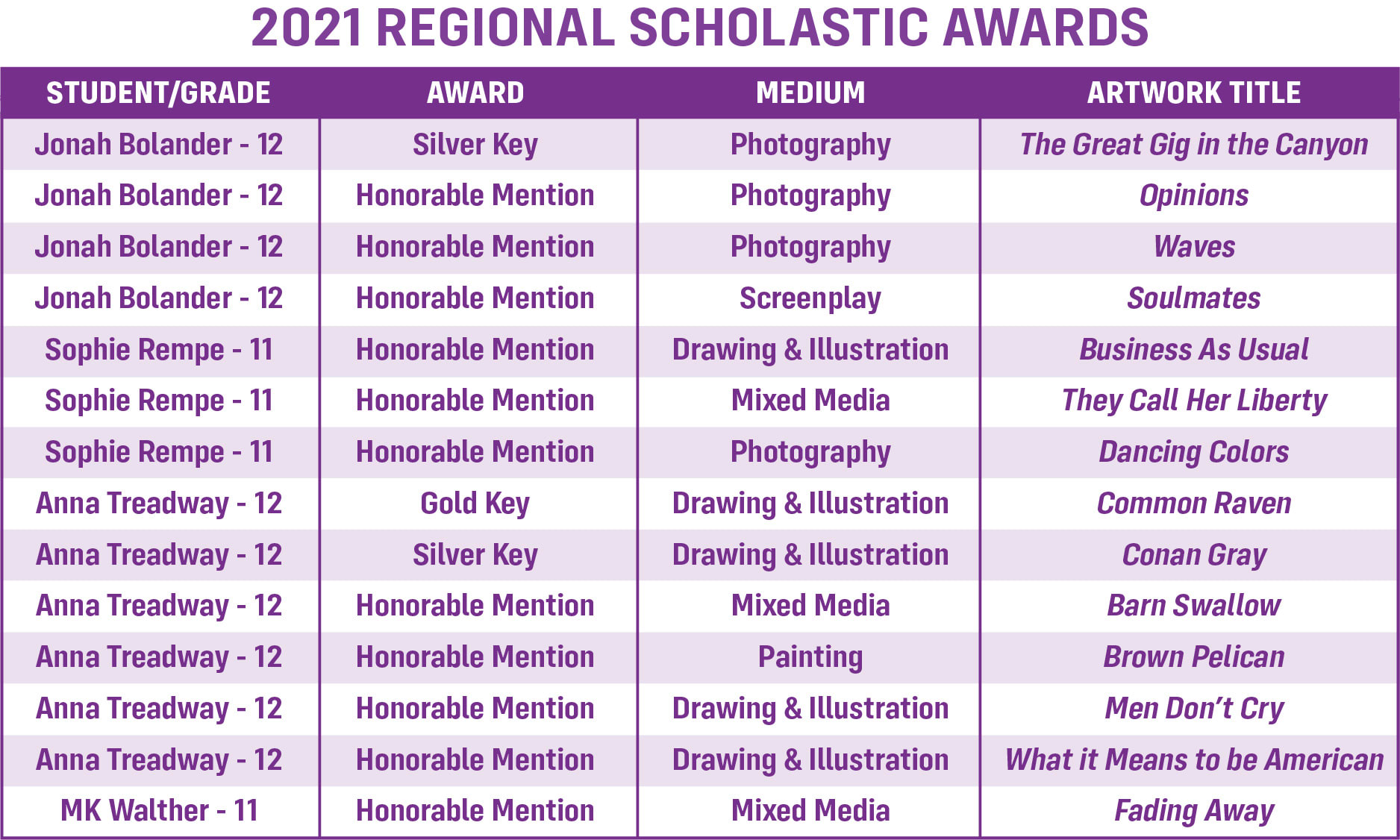 Electric Jazz Orchestra In-Person Ticketing Available 01/13/21

The Electric Jazz Orchestra presents its Winter Concert Saturday, 01/30/21 at 4:00 p.m. in Lindner Theater and YES, you can experience LIVE music IN Lindner Theater! While we are absolutely grateful to have the benefits of technology, our tech/sound team, and live-streaming for the past 10 months, who isn't craving the in-person sound and vibes of a real concert again? There are in-person tickets available for this concert, and beginning Wednesday, 01/13/21 you may purchase them through the Fine Arts Office. Please call 247-9944 ext. 260 during office hours Monday – Friday, 8:00 a.m. – 3:00 p.m
In-Person You Say?
US Gr 9-12 Off the Cuff Improv Show 02/05/21
After the past 10 months, we are pretty sure you NEED this show. Come out for a socially-distanced evening of entertainment that is NOT in your living room, but in the spit-spot Lindner Theater. Tickets are available for in-person seating for the upcoming Off the Cuff improv show Friday, 02/05/21, 7:00 p.m. in Lindner Theater.  Please call 247-9944 ext. 260 during office hours
Monday – Friday, 8:00 a.m. – 3:00 p.m.
Anne Phelps
The Gr 9-12 cast for Peter and the Starcatcher has been announced on the homepage here. Auditions for students in Gr 7-8 will be held Monday, 01/25/21 and Gr 7-8 registration is open until noon that day. See the homepage for details. 
Anne Phelps
The cast has been announced for the Gr 9-12 Spring Musical Beauty and the Beast and is posted on the homepage here. Congratulations to all! Streaming tickets are available for this show! 
1/15/2021
7:00 PM - 9:00 PM
MSL Campus: Lindner Theater
1/16/2021
7:00 PM - 9:00 PM
MSL Campus: Lindner Theater
1/17/2021
3:00 PM - 5:00 PM
MSL Campus: Lindner Theater
1/30/2021
4:00 PM - 6:00 PM
MSL Campus: Lindner Theater
2/1/2021
4:00 PM - 8:30 PM
MSL Campus: Lindner Theater